Automotive Locksmith Baltimore MD
Experiencing an auto lockout can be a stressful time. When this happens, you will be in need of a professional automotive locksmith. However, you may not know who to go to when this happens. If you ever experience this problem, Locksmith Baltimore is a company who is ready to help you. Our teams of technicians are always standing by waiting for your call. Have you lost your key and now you're having trouble getting inside your vehicle? This is something an automotive locksmith from our team can help you with. Call us if you ever have this problem. We'll send out one of our technicians to provide you with a car locksmith replacement key.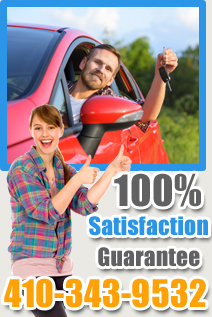 Key Replacement and Repair
Are you in need of auto transponder keys? You may be tempted to contact your dealership or local hardware store, but this is not recommended. Many times a dealership will overcharge you or force to wait a long time for help. Many hardware stores do not have trained employees who know how to create keys. Play it safe by having a professional automotive locksmith handle your transponder keys. You never have to worry about the quality of your product when you let Locksmith Baltimore handle it.
Do you need to replace ignition key? Perhaps you have lost or damaged your original, and you need help getting a replacement. If so, Locksmith Baltimore is able to help. An automotive locksmith from our team is more than ready to help you replace your key so you can get back on the road.
Affordable Key Programming
Auto key programming is a very important process that not many people know how to do. If you have a transponder chip key, it is virtually useless until you have it programmed. Every key and vehicle have a different programming process, so it is best to let an automotive locksmith handle this. Call us if you ever need to program your transponder key.
Are you in need of an automotive locksmith but you're afraid of what it might cost? This is something you don't have to worry about with Locksmith Baltimore. We have a team of cheap car locksmiths who are ready to help you. Not only do we offer low rates, but we also provide customers with online coupons. We want you to be able to enjoy great deals, so we make it as convenient as possible for you.