Auto Lockout Baltimore MD
Fast Lockout Relief An auto lockout can be a very stressful situation for the average driver. Nobody enjoys not having complete access to their vehicle. Are you looking for a service that can help you get out of this situation? If you need a quick solution to this problem, Locksmith Baltimore has a solution for you. You may be leaving for work in the morning when you realize that you have locked keys in car. When this happens, you may be stressed and frustrated, but you don't have to stay this way for long. Locksmith Baltimore auto lockout service is here to help you. All you have to do is call us and we send out a professional locksmith to open your vehicle and retrieve your keys.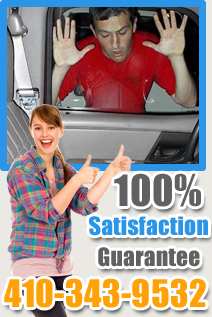 We Can Solve Your Lockouts Quickly
Have you experienced an auto lockout in the middle of night? Perhaps you were leaving an event late at night when you realized that you could not get into your car. This is a situation that nobody wants to be in, but you're in luck if you live in Baltimore Maryland. If this happens, you don't have to wait until the morning for help. Our 24 hour lockout service will be there to help regardless of what time you call.
If you are locked out of car, you may be tempted to try to open it yourself. However, this is never recommended. Many drivers end up doing severe damage to their cars by trying to force and pry open the doors. Experts recommend playing it safe and having a professional take care of your auto lockout. You will save yourself a lot of time, money, and energy by letting our experts take care of your problem.
24/7 Service
In an auto lockout, you don't have time to wait. You need a company who will be there in a pinch when you call for help. At Locksmith Baltimore, we understand that our customers depend on us to provide fast and affordable service. You can count on our emergency lockout service to help you 24 hours a day, 7 days a week. No matter when you call, we will have a professional on the way in a matter of minutes.